Our faith and our family are important to us and for that reason we do not sell or show puppies, neither will we answer any phone message or email on Sunday. God Bless You!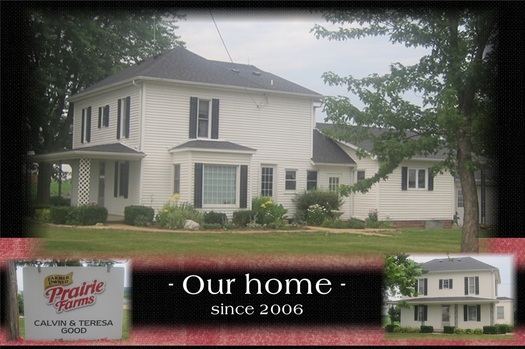 We live on a diary farm ~ which produces milk from black and white cows, called Holsteins. We get to experience early mornings and late nights, watch a new born calf struggle to its feet, feed a milk bottle to a hungry calf, feed the cows, clean all pens and after all the work is done, we sit at the kitchen table with a glass of cold milk and a chocolate chip cookie! We see loads of sweet smelling hay being brought in the from the field, a rumbling tractor and planter planting corn, beans or wheat, clattering balers gobbling straw or hay and making bales, noisy combines harvesting crops, roaring four wheelers as they take supplies to men in the fields (sometimes we take lunch along to the field, throw down a blanket and enjoy a packed sandwich along with fresh fruit and a warm brownie; eaten under a giant oak tree beside a rippling brook, waving grain heads, tall grasses and pretty wild flowers.) In the summer as the sun rises we pause our work to view the eastern sky paint soft hues of pink and blue, during the winter the sun shine makes the icy trees glisten in splendor. As the seasons change; spring brings soft green popping up in flower beds, gardens, fields, and woods; summer days are longer and hotter, making things grow; put on a cob of corn, a pod of beans, a red tomato. An eagle floats lazily in the blue, cloudless sky. With fall come warm days and cooler nights, crunchy leaves and fields yielding bushels of corn and beans to feed our animals in the coming winter months. Winter is a slower time with no field work; chores often take longer due cold weather, snow falls softly making a quiet white world. But there is plenty of work to do; push and shove.... down from the hay mow come the hay bales that are fed to calves and heifers ~half grown cows, we use a tractor to get big 4'x8' bales for the milking cows. How glad we are for the bales of straw tumbling from the straw mow, to make a soft clean bed for the cows and calves. Wood peckers, finches, blue jays and cardinals gladly feast at the bird feeders, foxes run across the field on its way to the pond for a drink, to find its food deer come out of the woods pawing at the frozen grass or spilled corn. Some times we spot turkies along a fence line searching for a bite to eat.

---
Carla the Cow....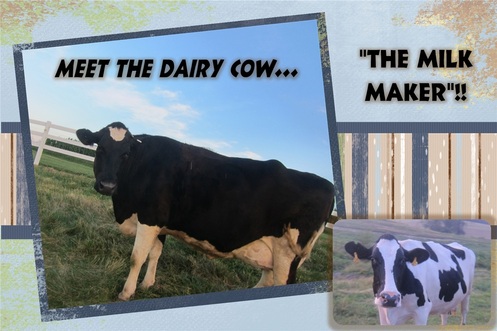 A baby cow is a calf. Its father is a bull. Its mother is a cow. Cows eat grass and make milk.
Some farms are called dairy farms.They produce milk. They keep the kinds of cows that give a lot of milk.
The way we care for cows is
by keeping them in places there is plenty of green grass and fresh water. If there is not enough fresh grass, the we feed the cows hay. We also care for the animals by checking them to make sure they are healthy. We will have a vet give the cattle injections to protect them from some diseases. Just like your doctor who gives you injections.
We need to make sure they have a lot of water and food for their cows because cows eat and drink a lot. On average, a cow will eat about 25 pounds of food and drink about 30 gallons of water in a single day.
Cows have different stomachs than humans; while people have a stomach that is just a single compartment, cows have four stomachs have multiple compartments that are better at digesting rough plants. Animals with these kinds of stomachs are called ruminants
.
When dairy animals can no longer produce milk, they are often used for meat, primarily in the form of ground beef. It is possible to get the same cuts of meat from a dairy cow that you do a beef animal. Male dairy calves, called bull calves, that are not used for beef are often used for
veal
. Veal is meat from younger animals and is very lean. It is considered a delicacy in many countries. There are various by-products that come from all types of cattle. Tallow is fat from cattle, and it is used in wax paper, crayons, margarine, paints, rubber, lubricants, candles, soaps, lipsticks, shaving creams and other cosmetics. Gelatin is a protein obtained by boiling skin, tendons, ligaments, and/or bones of cattle in water. Gelatin is used in shampoos, face masks and other cosmetics. Gelatin is also used in foods as a thickener for fruit gelatins and puddings (like Jell-O), candies and marshmallows. Leather comes from the hides of animals. It is used to make wallets, purses, furniture, shoes and car upholstery.
Thomas & Sydenham, Cattle. [Online] www.kidcyber.com.au (2007)
:
http://www.kidcyber.com.au/
Animal Smart:
http://animalsmart.org/species
---
How we get our milk.....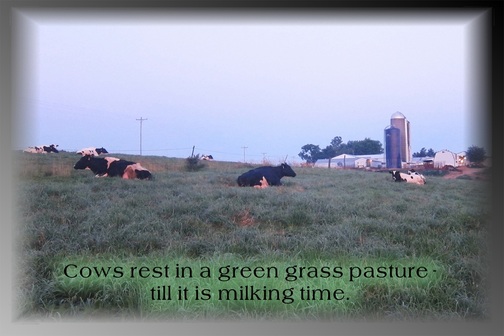 Have you ever wondered where milk comes from? The following paragraphs will explain the process.... be sure to check out the photos, too.
1. Cows are kept in barns equipped with clean freshly bedded resting places, delicious feed in the bunks and sparkling cold water in the troughs. Cows turn a mixture of hay, corn, silage, beans, haylage, protein into milk!!
2. A cow makes milk inside a part of her body called udders. Cows are milked twice a day. Machines ~ called milkers ~ pump the milk out of the cows' udders. When the milk pump starts we hear the steady rhythm of the milkers in the barn collecting fresh warm milk from the cows. The milk goes through stainless steel pipes to a storage tank, which keeps the milk cold.
3. A big tank truck blows its horn as it pulls in the driveway to collect the frothy white milk from the farm and rush it to Prairie Farms dairy plant in a big city, where it is tested again before it enters the plant.
4. At the dairy plant, the milk is pasteurized to kill germs and packaged into bottles or cartons and taken to shops so we can buy it.
5. Some of the milk has the cream taken out of it. The cream is put into bottles and cartons. Milk without cream is called skim milk. Some milk is made into cheese; shredded, sliced or string. Some milk is made into butter. The milk is shaken until it turns into butter. Milk is also used to make other yummy dairy foods: yogurt, coffee, chocolate or strawberry milk, cottage cheese, ice cream, sour cream and etc.
6. Mmmmmmmm...Milk tastes good and is good for you!! Milk is one of the most nutritious foods you can eat. It contains nine essential nutrients, including Calcium for proper growth and maintenance of bones and teeth as well as Protein for building and repairing body tissue. The next time you go shopping, fill your cart with healthy, super delicious milk products!!
How much milk should you have daily? Children (ages 2-3) ~ 2 cups, Children (ages 4-12) ~ 2 1/2 - 3 cups, Teenagers and Adults ~ 3 cups.

---
Where do eggs come from?

CHICKENS!! We have some chickens on our farm. We feed them special feed so they lay eggs with hard shells that do not break easily. They also have a water bowl, which it kept filled with clean water. They love any kind of left over garden goodies; carrot & potato peelings, celery stalks, onion stems, pea pods, etc.
Laying hens produce eggs which serve as a source of protein and are used in baking. Eggs are in lots of things: Egg salad sandwiches, fried eggs, scrambled eggs, red eggs, salad eggs, angel/chiffon cakes, custard, puddings, bars, cookies, casseroles, breakfast bakes, stuffing, bread, muffins, rolls, pizza dough, waffles, pancakes, pie crust and some pie fillings, sub and hamburger buns, meat balls, hamburgers, dipping for fried meats, etc.
A meat chicken does not lay eggs but gobbles and gobbles feed. It gains alot of weight in a few weeks and is then ready to use in delicious chicken casseroles and can come in many different forms such as BBQ, wings, nuggets, boneless, roasted or fried, just to name a few.
The next time you go shopping, make sure you add some packages/boxes to your cart for lots of yummy eating!!!!
Home raised meat and farm fresh eggs are hard to beat.. find them at your local farmers market and taste the difference!!

---
Here is "Porky"!!!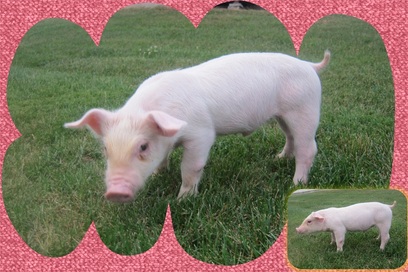 The pig family: Male pigs are called boars. The females are called sows and the babies are called piglets. A baby piglet weighs approx. 3.5 - 4.5 pounds at birth. Some
pigs have
a pink skin but there are brown, white and black skinned
pigs
. They have a snout on their face.The snout helps them to smell food. Pigs have small eyes and some have a curly tail.The piglets drink milk from their
mother
for about 5 weeks.
Pigs
are omnivores. This means they
eat
all kinds of things. They
can eat
vegetables, fruit and even bugs. Farmers feed pigs on grains such as corn, wheat, oats or barley. Farm pigs are also fed greens and dried food made from meat, and some vitamins and minerals. A pig can weigh up to 250 pounds and can be 3 foot tall. A 250 pound market hog yields about 150 pounds of pork. Pigs drink a lot of water. A sow can drink more than 28 quarts of water every day. Pork is the most widely consumed meat in the world. People eat many different pork products, such as pork chops and bacon which is from the back and sides that has been smoked or salted or dried to preserve it. Many sausages are made of pork. You might grill pork ribs in the summer, or you might enjoy a Christmas ham; which comes from the heavy muscled rear quarters of the pig. In addition to pork, several valuable products come from swine. These include insulin for the regulation of diabetes, valves for human heart surgery, suede for shoes and clothing, and gelatin for foods and non-food uses. Swine by-products are also important parts of products such as water filters, insulation, brushes, rubber, antifreeze, certain plastics, floor waxes, crayons, chalk, adhesives and fertilizer. Lard is fat from pig abdomens and is used in shaving creams, soaps, make-up, baked goods and other foods. Some kinds of medicines are made from pigs' glands. Their bones are made into glue. Pigs do not sweat, so they wallow in mud to cool their bodies. Because, pigs often look mucky and people think that they are dirty animals. But pigs are clean animals! They will have a place which they use as a toilet which is well away from the places where they eat or drink. Grandpa and Grandma (Calvin's parents) raise a few pigs on our farm.
Did you know? In 1933, a Poland China hog named "Big Bill" set the worlds record for largest pig. He weighed 2552 pounds, was 9 feet long, and stood 5 foot tall at the shoulder!!
Thomas, R. & Sydenham, S.
Pigs [Online] www.kidcyber.com.au (2006):
http://www.kidcyber.com.au/
Animal Smart:
http://animalsmart.org/species
---

How long have you been raising puppies?
In 1998, at age 18, I (Calvin) started raising Cocker Spaniel puppies. After we got married (Calvin & Teresa) we got bitten by the bug called: sending cute babies home to excited families, so we added a few more mommies and daddies. We loved and enjoyed raising our puppies and decided to get State and USDA license so we could add a few more breeds. Our focus has been to improve the breed through good breeding practices (No Inbreeding) and careful selection of both the Mother and the Father to make sure you get the very best puppy possible.
What kind of socialization program do you have?Puppy socialization:
Our four children are our socialization program, they love to cuddle and play with them! Summer time is often spent in the yard, romping and playing. When we get hot, we have an air conditioned play area:) During the winter our daughter spends time in the play area, more often than not, they are her dolls, wrapped in blankets and decked out in bows!
Adult socialization:
Unfettered access to the outdoors with toys and chew bones.
How many litters do you have your dogs produce each year?
How many litters do u think a dog can have a year? Did you know that dogs are not like women, they do not cycle every month. They may cycle 2x a year, but they don't always do that. They are pregnant 2 month, then they nurse and tend babies for approx. 2 month. And God designed their body not to cycle again, till it is ready to carry/nurse babies. If we think the mama still inst ready, when she does cycle we wont have her bred. Mama dogs are just like human mamas, having babies back to back will wear them out. And a wore out mama will not make a good mama, which puts unwanted stress on us. We love our dogs 2 much for that.
Do you start potty training them at all?
We have doggy mats in their pens, and more often than not they use that for the potty! We didn't teach them that, mama often plays a big role in that. And some puppies just tend to be neater and cleaner- so much like humans!

Are puppies with mama and daddy till they come home?
No, they are not. At 4-5 weeks of age puppies are starting to eat, so mama automatically starts nudging them to the feed bowl, she is ready for some freedom- just like human mamas do when their baby is old enough for table foods.
At 6 weeks of age they are eating more and mama will start being away for a few hours, at 7 weeks of age mama, lets them sleep alone. How the mama and puppies love morning time:) And at 8 weeks of age when they are ready for the new family, mama is no longer with them. That helps them have less crying and they are totally on hard food, so adjustment to a new home and family is easier for them.
What kind of care is given to your adults and puppies?
In 2012 the State of Missouri~ Animal Care Program issued more guidelines and regulations for kennels, to improve the health and comfort of the dogs. We are a brand new facility, meeting the Missouri 2016 regulations. Our dogs have no wire flooring, unfettered access to the outside, food and water at all times, heat in the winter and A/C in the summer and fans keep circulation flowing. Our dogs have regular vet exams to insure quality parents for quality puppies. We vaccinate Mama and Daddy for diseases and run a very good worming program. Front line is our #1 choice for flea control. They get bathed and hair cuts as often we see necessary... depending on the breed.
The puppies are wormed at 2 & 8 weeks with Pryantel Pomoate, 4 & 6 weeks we use Safeguard
Neopar ~ 4 weeks
Bordatella ~ 5 weeks
Galaxy ~ 6 weeks
Bordatella ~ 7 weeks
Neopar ~ 8 weeks
We use a flea prevention one time, or as we see necessary, before they leave us.
What paperwork comes with my puppy?
Health Records: Each puppy comes with his/her complete health record, detailing shots and tail docking (if necessary for the breed.)
Registration Papers: America's Pet Registry (APRI) ~ Registering your pup is your decision, we simply provide the paperwork, if you wish to register your puppy.
Baggie of Food ~ Nutri Source Puppy~ Our puppy is used to unlimited access to water and food bowls. You can decide how you want to do.
Sales Contract and Guarantee ~ read it on the
Warranty & Payment & Shipping
page.
Your puppy will be micro-chipped with Pet Key.
http://petkey.org/
If you would like your puppy spayed or neutered, I will do this for you: $150 for spaying and $125 for neutering
.
Do you ship your puppies and is it safe?
Yes, we do ship our puppies and we do have ground transportation available as well. Read more on the Warranty & Payment & Shipping page.
Air transportation is by far the fastest way to get your puppy. Puppies are not afraid to fly, they sleep as if in a big rocking chair all the way to your welcoming arms. We will give you specific instructions as to where to go and how to pick up a puppy at the airport. We prepare each puppy for transportation. They have been introduced to the airline approved carrier, and have gone for rides the prepare them for motion as well. Each carrier has a big comfortable bed of shredded paper, Food to eat and water to drink along the way. Each trip is about four hours on average.

How do I know where to buy a puppy?
I will try and explain what all these names mean that are floating around the puppy industry.

"Professional Dog Breeder or Puppy Farm" is what we like to called... we raise our favorite breeds for loving families. We are licensed by the USDA and the State. Must meet very strict standards for animal welfare and care and are inspected numerous times throughout the year by all of our licensing agencies. We choose our breeding stock very carefully. The Mommies and Daddies are our pets. We try to do our very best ~ but we are human.

"Hobby Breeder" is a person who carefully chooses its breeding dogs and provides great living quarters. They feed them quality food and the vaccinate / wormer protocol is on a strict schedule. They raise their puppies with excellent care and provide all the vaccinations and wormer.

"Pet Stores, Brokers" If a Pet Store buys puppies from legal Professional / Hobby Breeders or from a Broker, you should have a good experience over all. Most Pet Shops are working at knowing where their puppies come from. The Pet Store should warrant the puppy.
A Broker buys from legal Professional / Hobby Breeders, puts a higher sum of money on top and resells it to the Pet Stores.
However, Pet Stores and Brokers are not required to buy from the Legal and Licensed Breeders or legal Hobby Breeders. They can buy form anyone that has puppies to sell locally.

"Puppy Mill" is a non licensed, un-inspected facility. The easiest questions to ask are: How many dogs do you have? Are you licensed and inspected? (In the state of Missouri; a person with 4 or more breeding females needs Missouri license.) The name Puppy Mill is said around a lot by the Animal Rights people, according to Animal Rights people anyone who raises anything is a "Puppy Mill". These extremists can not be taken seriously for not every one raising animals is bad.

"Backyard Breeder" I am sure there are some good "back yard breeders". But often they raise too many dogs in an unlicensed place not having the proper facilities to care for Mother and Babies, and may not have a strict vaccine protocol.

"Rescues and Shelters" The slogan is "Adopt don't Buy", it sounds like a reasonable thing to consider. You may consider this if you are an adult and have experience handing dogs, do not mind getting bit and have a good fenced yard where the dog cannot get out from climbing or digging. And you also need to make sure your children and grand children or others are closely supervised until you know the specific issues why the dog is really at the shelter or rescue.