Amid the gently rolling hills of Northeast MO, we strive to raise quality pets for you and your loves ones! We and our children love our playful happy puppies. They come to you well socialized and ready to shower you with kisses. Read more...
Contact us Email: fourpaws@nemr.net Home: 660 328 6623 Cell: 660 216 0267
You are welcome to send an email or give us a call. Feel free to leave a message and we strive to contact you as soon as we can. We will not answer any calls or emails on Sunday.
Bichon Frise ~ Non shedding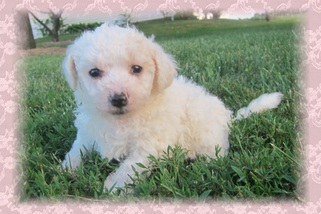 Bichon Frise has a shoulder height of 9-12 inches and weighs 7-16 pounds. It has round, dark eyes, drop ears, a furry tail curled over the back, with a long elegant neck, strong chest and short muzzle. They have a dark halo around the eyes, a dark nose and lips, giving an inquisitive facial expression. A white colored double hair coat consisting of a soft, silky, dense undercoat and coarse, curly, outer coat. The coat springs back when patted and is puffy in appearance. The colors may be cream, apricot or red shadings, which will fade during the puppy's first year. The Bichon Frise is highly hypoallergenic and does not shed, making it a good breed for those with allergies. They are sensitive, responsive, affectionate, and abundantly playful with a easy, happy disposition. It is a perky, jumpy, happy dog that loves companionship and is happy to cuddle up. They are eager to make friends with strangers, other dogs and children, tho' it may bark frequently or tend to nip when playing. They make an excellent addition to the family and must have plenty of human companionship. Their coat needs to be brushed and combed every other day and trimmed every two months. The foot and ear hair should also be trimmed occasionally, and the hind area should be cleaned with a damp cloth. They may have allergies or be sensitive to flea bites. They is highly intelligent, making training a fairly simple task and may learn a wide variety of tricks. It is an active dog that needs daily exercise. Despite its small size, it is eager to play vigorous indoor games, romp in the yard, or take short walks on the leash. Bichon Frise can adapt to apartment life fairly easily. They have a life span of 12-13 years.


---
Boston Terrier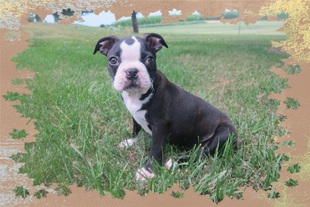 Boston Terriers will reach heights of 15- 20 inches and weigh 15-25 pounds. Their hair coat is very short and fine with moderate shedding, with common coat colors being black, brindle, seal or a combination of the three over a white background. They are very playful, affectionate, energetic, friendly, gentle and loving breed that was bred down from the fighting ring to become an excellent family pet. It will learn quickly, as they are quite intelligent. They can become quite stubborn and willful if left to believe that they wear the pants in the pack. It is not uncommon for them to bark when necessary. They are known to be very well mannered and enjoy the company of children of all ages and is also recommended as a companion for the elderly. They must be socialized well at a young age however, to avoid aggression towards other dogs or pets. It will adapt well to apartment living and requires only a small area to play outdoors, as they are relatively inactive inside. The Boston Terrier's smooth short hair requires minimal grooming. They require brushing with a firm bristle brush and baths only when necessary. Their eyes and faces will need to be wiped clean on a daily basis. The Boston Terrier's eyes and ears should be checked regularly for foreign objects as well as ticks. They will respond best to a firm, yet affectionate approach to training.


---
Cavalier King Charles Spaniel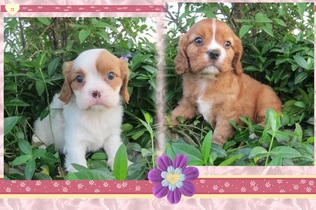 Cavalier King Charles weigh 10- 22 lbs and stand 11-13 inches high. There are four color types which were formerly considered separate breeds: tricolor ('Prince Charles'), red and white ('Blenheim'), black and tan ('King Charles') and red ('Ruby'). Its coat of silky hair is medium to long in length, is not curly but may have a slight wave and is an average shedder. There is feathering in the tail, legs, feet, ears and chest. It has large eyes, and long, highly set ears. Unlike most Spaniels, they have a long, feathered tail which is carried high and moves when the dog runs.They are graceful and elegant, display an affectionate and loving nature, is a true companion and lap dog, but suspicious around strangers. They are gentle, but also have a sporting character, which enables them to do well in agility, hunting events and also does well in competitive obedience. This breed loves to swim, is a natural retriever and does not bark frequently. It gets along well with children, dogs, and any household pets. Brush weekly to prevent mats and tangles, but should be bathed only when necessary. The Cavalier has a tendency to develop heart abnormalities early in life. It is extremely important to have regular veterinary examinations. They are also prone to allergies, deafness, cataracts, and diabetes. They do like hot weather. They are highly intelligent and eager to learn making an excellent therapy dog. They respond well to gentle training and high praise. The exercise needs of the Cavalier King Charles Spaniel are uncomplicated making it well suited to apartment life. It enjoys walks, but its needs can usually be met with indoor play; it will adapt itself to the activity level of your family. They should be leashed or watched closely around roads as it tends to give chase to small animals or if you have a small yard they will chase anything that moves.

---
Chihuahua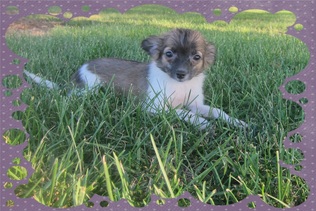 Chihuahua has a shoulder height of 6-11 in. and weighs 3-10 lbs. Most of them have an apple shaped head with a short, pointy muzzle, large erect ears, and tiny feet. The tail may curve over the back or side. There is typically a soft spot on the top of the skull; this is normal and is usually closed by adulthood. It can have a long or short coat, with colors of tan, chocolate, silver, chestnut, blue and sables. Chihuahuas are proud, very energetic, intelligent, graceful, and sometimes too brave for their own good. They usually bond with only one person and become highly devoted, frequently kissing the owner's face (with or without approval). They are reserved around strangers, and may attempt to defend their owner, usually with little effect. They can usually live with other dogs and cats without problem and get along particularly well with other Chihuahuas. It is important to socialize the Chihuahua as a puppy to prevent overt aggressiveness. Small children may regard the Chihuahua as a toy, and their teasing can cause it to snap or bite. They are eager to learn, but may require patience and effort to housebreak; for this reason they are sometimes only paper trained. A long haired dog requires regular grooming with a brush and comb. Their claws grow quickly, which means frequent trimmings and its teeth must be checked frequently for tartar buildup. Chihuahuas get cold easily and should be kept in a warm environment. They can usually get all the exercise they need by running around indoors, may be taken for short walks but are not an outdoorsy breed. Do not be overfeed. If the dog becomes overweight it should be allowed to walk rather than carried from room to room. It has a long life span at 14-18 years.

---
Cocker Spaniel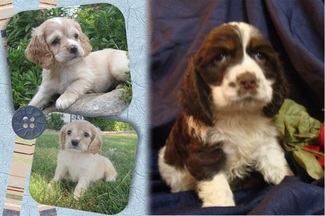 Cocker Spaniels are 15-20 inches in shoulder height and weighs 18-29 lbs. They have long, hanging ears and we always dock the tail. The smooth hair is of medium length may be wavy but not curly. We have a variety of colors: buff, blue, chocolate, black, cream, red or a mix of another color with white, known as a merle. Cockers are intelligent, cheerful, lively, affectionate and like to bark. They are very loyal to family, love to play and always ready to please. It makes a terrific pet and/or a fine hunting companion. Since they require plenty of attention, love, and devotion, they will come looking when they feel its not getting enough. Getting along well with children, other dogs or household pets. Being quite willing to learn, house breaking must be consistent but not overly firm, but are otherwise very easy to train. The Cocker Spaniel is recommended for a home with at least a small yard, but can do well in an apartment if they receive the proper exercise. This is a fairly active breed and does require 3 walks per day, unless able to roam free in a fenced back yard for exercise. When walking, avoid brush that may tangle the coat. Also need to run freely in the countryside on occasion, plus love to swim. With their thick hair coat they must be brushed and combed thoroughly on a regular basis, preferably daily and should be taken to a dog grooming professional two to four times a year to have excessive hair removed. They are susceptible to ear infections, and sometimes eye infections. The ears should be cleaned frequently and regular eye exams are recommended. Cocker Spaniels have a lifespan of 10-15 years.
---
Miniature Pinscher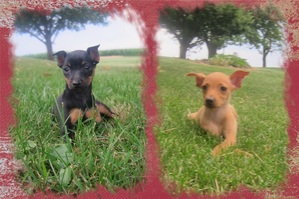 Miniature Pinscher has a shoulder height of 10-15 inches and weighs 9-17 pounds. They have a narrow head, and erect ears, which are cropped. They have small, round 'cat feet' and an erect tail which is docked. The Miniature Pinscher has a smooth, graceful gait. It has a smooth, short, lustrous coat which can be red, chocolate with tan markings, black with tan markings, blue and fawn. Their character is alertness, boldness, spirited and lively ~ extremely energetic; some people consider them to be the most energetic of all breeds. With their strong guard and protection instincts, plus being fearless and loyal they act far larger than they really are. They prefer to let its owner know when it wants to be handled; if it feels pestered it may bite. If proper socialization has taken place they will get along fine with with other dogs and strangers. They are easy to groom; it requires only a periodic brushing to remove dead hair. They are not well insulated against the cold. Due to their vermin hunting instincts, small objects such as bottle caps can present choking hazards. Miniature Pinschers are prone to obesity; proper nutrition and exercise are important. It is eager to learn and obeys commands fairly quickly, but it can also be stubborn, so it is a must too be consistent. As this is a working dog, it is best not to spoil it, as this increases its willfulness. They need regular opportunities to exercise as it is extremely energetic, but most of its needs can be met through indoor play and is well suited to apartment life. It has a lifespan of 12-14 years.

---
Miniature Poodle ~ Non shedding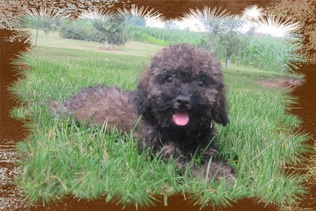 Miniature Poodles weigh 15-17 lbs and a have a shoulder height of 11-15 in. Poodles are very elegant in appearance with dark eyes, wide ears, straight, docked tails and small, oval feet. The distinctive fine, frizzy, wooly coat is similar in texture to sheep's wool. Solid white is most common, but the coat may also be solid grey, brown, apricot, or black. They do not shed, making them a good match for allergy sufferers, for which reason they are commonly used for crossbreeding. They are sensitive, intelligent, lively, playful, proud, bouncy, alert, and usually eager to play and more prone to bark. It bonds closely with family and makes a great companion. Miniature Poodles are very smart, obedient, and graceful, which makes them one of the most popular pets in the world. They gets along well with other animals, including dogs, and children. Makes a great watch dog as it will announce the arrival of visitors, but are generally friendly toward them. Show Poodles should be groomed by professionals, and will require a substantial investment of money and time, requiring heavy maintenance, thus pet clips commonly entail shorter hair over the entire body. Poodles which are not intended for show competitions usually have longer hair on the head, legs, and ears, and are trimmed every five to six weeks. They are susceptible to cataracts and eye problems and if not shaven carefully can suffer skin irritation or rashes. Meals should be spread throughout the day to avoid bloat. It requires frequent human companionship and should not be left to live outdoors. Since it is highly intelligent, it makes training a fairly simple process. They quickly understand what is expected of them and can learn a wide variety of tricks and games. It is likely to enjoy the training process and any effort put into training will reap large rewards. It should do fine with apartment life, tho' they should be walked or allowed to play outdoors. It has a long lifespan of 13-15 years.

---
Silky Terrier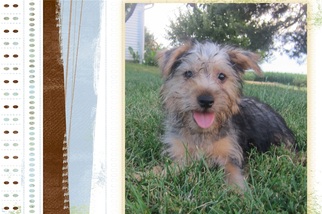 Silky Terriers are recommended to be 9 inches tall and weigh 8-11 pounds. Their orderless hair coat is one of the breed's most prominent features; long, smooth, silky, and shiny (much like human hair), does not reach the floor and conforms to the shape of the body. There is no undercoat which means non-shedding! Steel-blue is the most prized color. Our most common color is light to dark blue-grey with brown some tan or black and may turn more silver has they get older. They are upbeat, lively, intelligent, loyal, alert, and surprisingly protective. As a true Terrier nature can, on occasion, exhibit defiance and stubbornness. They do not like to be left alone for extended periods of time and do best when someone is home for most of the day. Silkies need to get used to cats when young to avoid chasing them later on. Normally they are very affectionate with older children. They will bark when visitors arrive, making an excellent watchdog. The intelligence of this breed makes firm and fair training fairly easy, provided the method used is not done using a choke collar their trachea is easily damaged. They respond best to praise, reward, love and consistency. The exercise needs are uncomplicated, they will adapt to the activity level of your family, but are a bundle of energy. They love to be given chances to run and play, must have a tightly fenced yard. They also enjoy playing ball and brisk walks. They are able to do well in an apartment, although they are also an active indoor breed. It is important they are kept busy and social to discourage boredom. Since they are highly susceptible to tangles and matting, regular grooming (for 15 minutes a day) with a brush and comb is required. Occasional baths are acceptable. The teeth must be checked for tartar. We have had no sugar shock issues with our puppies or dogs. When you bring a puppy home it causes stress so we recommend to put a drop of corn/pancake syrup on its food three times a day till they feel at home and too avoid any problems. They get a bit bigger than a Yorkshire Terrier but they have lot less problems (and less money!) and make a excellent companion in cuddling and playing.

---
Designer Breeds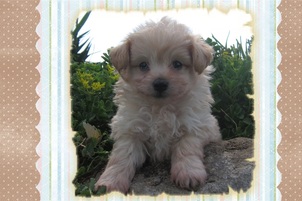 Bich/Poo - Bichon/Poodle - non shedding ~ weigh 8-15 lbs with a soft, curly coat, have little dander and do not shed, making them a good match for those with allergies. Owing to its Poodle heritage, it comes in a wide variety of solid or mixed colors. White and apricot are most common; other colors include gray, black, red, and chocolate. They are sensitive, responsive, affectionate, intelligent and clever; it has a habit of entertaining its owner with clever tricks, and therefore are easily trained. They love to play and have a seemingly endless supply of energy; walking, playing in a fenced-in yard, swimming, or visiting a local dog park. Are also great dogs for an apartment or condo finding exercise requirements through indoor play; sometimes they are happy to curl up on the couch for a nap. Bich/Poos are friendly toward strangers, children and other dogs and yet make good watchdogs. Must be brushed regularly and groomed every two to four months, bathe only as necessary. It has a lifespan of 12-15 years.

Lhasa/Poo- Lhasa Apso/Poodle - non shedding ~ weigh 12-20 pounds and have a height of 9-13 inches. The coat may be straight and soft, wiry and curly, or a combination of both. Variance of colors that include black, cream, white, apricot, and brown; may be solid or patterned. They have large, expressive eyes and are agile, alert, bold, affectionate, loving, and loyal. They are very family oriented and do not do well if ignored or left alone for extended periods of time. Boredom or loneliness will lead to destructive behavior and incessant barking. They do best in a home with older, considerate children. They do well with dogs and non-canine pets they have been raised with. Lhasapoo's are suspicious of strangers and will alert their family to visitors or out of the ordinary sounds. Depending on coat type, they require frequent brushing to remove loose and dead hair or professional clipping. It is important to regularly check and clean the ears to prevent infection. They may be prone to such health issues as sensitivity to flea bites, kidney problems and anemia. Early socialization and obedience are recommended as they have a tendency to be noisy and may be difficult to housebreak. They will not respond to harsh or heavy-handed methods. Training must be done with firmness, fairness, reward, patience, and consistency. They enjoy family play sessions, securely leashed walks, and off-lead play time in a securely fenced yard but will do great in an apartment provided they are sufficiently exercised and mentally stimulated.


Cava/Poo - Cavalier King Spaniel/Poodle - non shedding~ weigh 8-20 pounds and stand 11-15 inches. Red, apricot, black, cream, white, tan hair coat may be patterned or blended with a soft, silky, and slightly wavy look and feel. One of the most distinctive features are the long ears. They are compact, small to medium in size, and possess an expressive face. They are affectionate, loyal, and friendly, good-natured, playful, and social. Ours love children! And do well with dogs and non-canine pets. Cavapoo's will bark to announce visitors and out of the ordinary sounds. They are very family oriented and do not do well if ignored or left alone for extended periods of time. They require regular brushing to prevent matting and tangling or professional clipping. It is important to keep the ears clean and the nails trimmed. They may be prone to such health issues as hip dysplasia, luxating patella. They may be difficult to house train so crate training method works best. They will not respond to harsh or heavy-handed methods. All training must be done with firmness, fairness, patience, and consistency. They are well suited to apartment living provided they are sufficiently exercised. Thriving on daily securely leashed walks, off-lead play in a securely fenced yard, and family play sessions.

Cava/Shons - Cavalier King Charles/ Bishon Frise- non shedding ~ They have become popular companions, especially to allergy sufferers!! Weighing 10-20 pounds with a height of 12-16 inches. We have black and white, red and white, sable and white; or solid and tri-color with hair coat being silky and slightly wavy or loosely curled. The Cavachon possesses large expressive eyes and a sporty appearance. They are alert, sturdy, animated, and lively as well as affectionate, loving, and gentle. They are very family oriented and do not do well if ignored or left alone for extended periods of time. They like older children and will generally get along with dogs, cats, and other household pets. They are non-aggressive but will alert their family to visitors and out of the ordinary sounds. Depending on coat type, they requires regular brushing or professional clipping. It is important to regularly check and clean the ears. Dental hygiene is important to prevent early tooth loss. May also be prone to such health issues as ear infections, sensitivity to flea bites, heart problems, and hip dysplasia. The Cavachon may be difficult to housetrain so crate method is recommended. Training must be done with firmness, fairness, patience, and consistency. They are well suited for apartment living being relatively active indoors. They enjoy family activities, securely leashed walks, and off-lead play time in a securely fenced yard.

Cockalier - Cocker Spaniel/Cavalier King Charles ~ weight of 20-40 pounds. The weight will depend heavily on that of the parent dogs. The hair coat is soft and fluffy with the characteristic spaniel fringes on the legs and feet. They can come in a variety of colors and markings, but the most popular is the Blenheim marking. This is a white colored coat with spots of various shapes and sizes in a golden red color. This breed is smart with friendly personalities. They are very easy-going and calm, however, they will enjoy lots of play with their family. They are known to be very well suited for families with children, as they are not one owner dogs, also get along very well with small pets and other dogs. They will be quick to learn and happy to gain your approval. With their intelligence and eagerness to please, makes them relatively easy to train. Housebreaking is no issue. Additionally, they are not excessive barkers. They will require regular attention to grooming with regular brushing regardless, since their fine coats will often become tangled which can be very painful for the dog. They can be susceptible to ear infections, so a good deal of attention should be paid to cleaning the ears out on a regular basis. It enjoys a good swim, take extra care to dry the ears thoroughly afterwards. They can live happily in an apartment, however, they will require extra activity in addition to their regular walk to work off excess energy. They are active indoors; provide a good area to play, with lots of toys ~ something chewy and something to tug on are a must in the home. It is not uncommon for the them to exhibit interest in hunting and they may attempt to chase small game such as birds, rabbits or squirrels. It is necessary that your dog stay on a leash during play time when not in an area with a secure fence.


Milkies - Maltese/ Silky Terrier ~ Generally Milkie's range in height between 6-15 inches and weigh between 6-12 pounds. Typically, the coat is silky, straight and fine. Usually the hair is long and comes in a variety of colors such as black, tan, white, sometimes a combination of each. They are a spirited, intelligent, playful dog devoted to its family with a loving sweet nature. They love to play or curl up on the couch for a nap. They do well with dogs and non-canine pets they have been raised with. It bonds closely to their family and does not do well if ignored or left alone for extended periods of time. Boredom and loneliness will lead to destructive behavior and incessant barking. They are suspicious of strangers and will alert their family with any out of the ordinary sounds. They require daily brushing to prevent matting and tangling. Bathing should be done when necessary using a mild shampoo. Dental hygiene is important to prevent early tooth loss. They may be prone to such health issues as digestive problems, sensitivity to anesthesia, and skin problems. Milkie's can be a bit stubborn and require a gentle but firm and patient trainer. Special emphasis should be put on potty-training as some can be difficult to housebreak. They are well suited for apartment living as long as they are sufficiently exercised and have toys to play with. They enjoy family play time, walks and play time in a fenced yard.
(The Milkie will be a bit bigger and have less problems with sugar shock and have less hair than a Morkie.)

---